Military Veterans Healthcare Blog by Jim Wall. Article #1.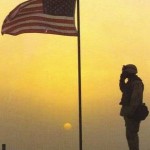 We Will Always Remember.
If you are a veteran and would like to share some of your experiences with the VA whether they are good or bad please feel free to do so, and if you have any information that will be helpful to us veterans please share. I would like to start a veteran's community where we can share articles, news, stories, and jokes.
My name Is James W. and I am an Operation Iraqi Freedom Veteran who works here at Northtowne chiropractic. I would like to start this Blog with a true story.
I was at work one day about 2 years ago and I sneezed. I felt a very sharp pain in my lower back. I continued to work for most of the rest of the day. You know "drink water drive on." Eventually the pain became too much and I called my girl friend who happened to work at Northtowne Chiropractic.  She scheduled me a time to come in to see doctor Van Such for an exam. I gave her a little haste because I was skeptical of the doctor because he is a chiropractor. My girl friend talked me into stopping by any ways. I slowly made it out to my car and drove over to the clinic.
When I got there I had to fill out some basic paper work. I went into the exam room and the doctor did a full exam and asked me questions. He even asked about my past medical history and social activities. I explained that I was airborne and he just said hmm. I asked what the hmm was for and he replied "a lot of my patients are veterans." He took me for some x-rays and had his staff develop them while I waited.
He came back about ten minutes later showed me my x-rays and explained them to me. He even put them side by side with perfect x-rays so that I could see the difference my self. The problem was that my spine was compressed. There is supposed to be about a centimeter of space between each vertebrae and I had no space between five of mine. He said that doing jumps could have caused this as well as carrying all of my gear when I was marching.
He recommended treatment and put me on a decompression table. When I was done before I left he shook my hand looked me straight in the eye and said "thanks for your service." I was stunned you usually don't hear that too much at least not being that genuine. I came back and completed the doctors recommended treatment plan, which took about 2 months and since then I have had no issues with my back.
About six months later the construction company I worked for closed up shop due to the economy and I found my self unemployed.  I looked for about two months with no luck, and then I got a phone call. It was Dr. Van Such with a job offer! He created a position for me so that I could have a job so obviously he has my loyalty for life. Now my girl friend has become my wife and my doctor has become my boss and friend. He understands the military core principals of Duty, Honor, Loyalty, and Respect.
Dr. Van Such knows you don't leave a man behind and I am forever grateful for his generosity. He is like one of those really great NCOs that will do anything for you. He truly is another one of my brothers in arms. For those of you that are already patients here, you know what I am talking about.
I would love to see you get service like this from the VA or any other doctor for that matter. He can help you with all types of medical claims and treatments. Obviously our office is very veteran friendly and we do treat a lot of veterans here from all wars. I really enjoy it when our Nam vets come in and we just chat all about our experiences when we served and compare stories. One of our patients had a lot of knowledge to share with me about the VA and getting correct disability percentage payments. He is one of those really tough Nam vets, drives a nice Harley Davidson… you know who you are.
Thanks for reading check back soon for more articles.
I will leave you with a joke
Choose a punishment
Private Smith was brought to the unit CO for a small offence
The CO knew that Private Smith was not the brightest soldier.
The CO said.
"Now private I am in a good mood today so I will give you a choice in punishment."
"You can have one month barracks restriction or thirty day's pay"
Private Smith responded
"All right Sir,"
"I will take thirty days pay Sir."
The CO laughed and said
"You are dismissed Private."